Seabourn Releases Preview of New Purpose-Built, Luxury Expedition Ships
byDaniel McCarthy/

Seabourn Cruises executives this week gathered during the Seatrade Cruise Global Conference in Miami to share the first images of the line's two new ultra-luxury, purpose-built expedition ships, which are set to launch in June 2021 and May 2022.
The images were the first glimpses of the work that Adam D. Tihany, the longtime Seabourn collaborator and design icon, has done in designing the ships, one of which that has been named Seabourn Venture.
The images were of four public spaces onboard: the Expedition Lounge, Discovery Center, Landing Zone, and Atrium. All of the spaces, except the Atrium, are brand new concepts for Seabourn.
"This is a pretty exciting time for Seabourn," President Rick Meadows told media gathered to learn about the new ships in Miami.
Seabourn's journey into the expedition market started in 2015 when it launched Ventures by Seabourn, a program that was "widely accepted by our guests," said Robin West, VP expedition operations & planning for Seabourn, and a veteran expedition leader.
"That journey is now continuing," he added, "and we're harnessing that experience into two purpose-built, luxury expedition ships."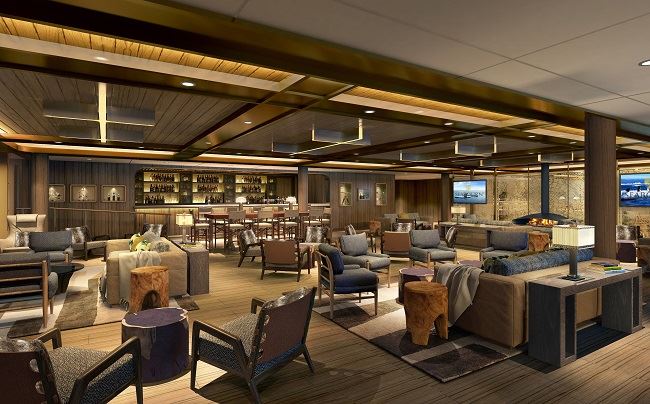 Expedition Lounge. Photo: Seabourn.

The Expedition Lounge will be the "heart of the ship" and will serve as the gathering place for all guests, giving them an opportunity to share their stories from the day's excursions. The spaces will offer a lounge and bar, with custom furniture and two large touchscreens that will offer photos, navigational charts, weather forecasts, and maps.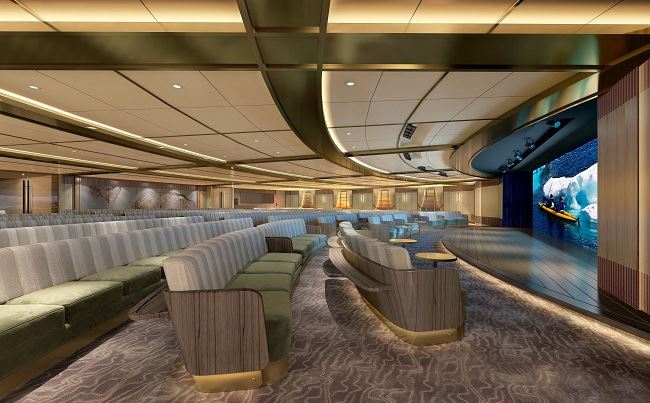 Discovery Center. Photo: Seabourn.

Discovery Center will be the "teaching and academic center for natural history and cultural programming" for onboard guests. The space will accommodate all of the ship's guests at one time and will be the place for lectures, briefings, and the Seabourn Conversations enrichment program.
It will include a number of high-definition screens, 2.5 meters high by 10 meters wide, which will show programming for each destination where the ship is sailing. Footage captured onboard daily submarine voyages will also be included.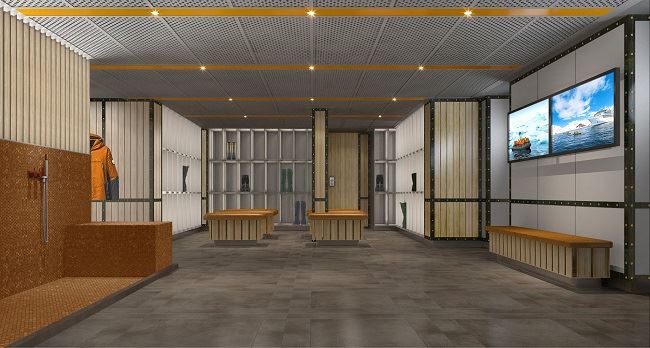 Landing Zones. Photo: Seabourn.
Landing Zones, which will be featured on both of the new ships, will debut as a 60-square-meter space for guests to change and clean their gear while getting on and off the ship's Zodiacs. It will have room for guests to store their gear. When the ship is in tropical climates, it will serve the same function for snorkeling and other activities.

The Atrium. Photo: Seabourn.

The Atrium, the focal point for all of the Seabourn ships, was designed by Tihany with a special attention to detail for its expedition ships — with a wood-and-metal detail throughout the ship, rope work instead of the traditional spindles, and topograph